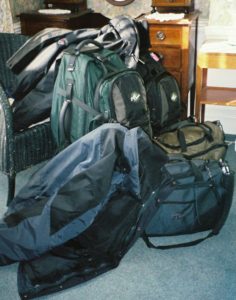 Many lifetimes ago, we took a trip.
It was the benighted time at the Turn of the Century (i.e. 2001) and my Dearest Travel Companion and I undertook a journey inspired by the Jules Verne character, Phileas Fogg. Like Fogg, we sought to go around the world – from London to London – without using airplanes. Ideally we would go, as the title of Verne's book suggests, Around the World in Eighty Days.
We kept journals of the events of the trip. Although we transcribed them into a digital format, these journals have not been shared. They sat in a box on a shelf as we tried to think of a meaningful way to utilize them. For 15 years.
To mark the 15th anniversary of our trip, I posted excerpts from our journals. It was not a complete accounting of the trip but a way to share some events from our journey for the first time. Perhaps we will find some way to put the observations we made along the way to use sometime in the future.
In addition to the journal updates, I included our archived postings. During the trip, we posted updates on the road so friends and family could follow our travels. Since this was the dark days before prevalent WiFi and all sorts of social media, we were limited to internet cafes we could find in various cities. For this reason, the posts were often infrequent and gave a tantalizing but incomplete picture.
The button below links to our posts from the road in 2001 – along with a few pictures to make the reading less painful – and our 2016 aggregation of journal excerpts.
Click here to read the journal Entries
Click here to read the archives
Looking for a playlist inspired by the trip? We pulled together a playlist of the songs that inspired us and help us reminisce about the journey.
Click here to see our travel playlist