I am not a fan of running.
To be honest, that is putting it lightly. I run, but I do not enjoy running. I dislike it most strongly. I am jealous of those who get excited about it or feel a rush of peace and/or satisfaction in doing it. That ain't me. I get great enjoyment from not running. I find peace thinking of anything I can do that does not involve running.
But I do run.
There is ostensibly a health benefit of running – although I wonder if the wear and tear on my body cancels out any potential upside. I am not a lover of exercise either. I go to the gym and spend time there but the actual amount of exercise achieved varies per visit.
OK, you made your point. Why are we talking about running again?
Years ago, my beloved and I began participating in 5K events (walking, of course) in support of some of our favorite charities. After a few years, she suggested that maybe we should try running one. Fair enough, I thought. So the next year, I found an app to help train and get ready for one of the events we typically walked in the Spring. Soon after I realized I mistranslated "we should" to mean something we would both do. "We should" was more an aspirational phrase on her part – if I chose to run, I would be running by myself (she would walk the event, of course, but none of this running business).
So I ran a couple 5K events that year and it was fine (the term "running" may oversell my actual performance, but you get the idea). As soon as the event was over I relapsed into my non-running state, which made training for subsequent events an involved process. I learned that was OK, though. Being inherently lazy, running had the advantage of having a goal of a set distance. Once that distance was traversed – be it walking, running, or crawling – I was done. So the motivation for running was to complete said event sooner.
Somewhere during this time, I ended up in Tokyo. I was wandering around the Imperial Palace grounds and noticed some orange cones on the surrounding roadway. I also noticed a policeman getting rather agitated with me as I was trying to cross said roadway without his permission. It took me a moment to identify the source of his consternation: there were a few people trotting up the street adorned with what I realized were running bibs. I ran the risk of interfering with their run.
After a while, it bubbled into my brain that this might be a way to enhance the travel experience. Granted, the running itself was going to suck, but it could be a great way to see a locale differently. In Tokyo, the blocked off a major thoroughfare for a 5 or 10K event. Boston, New York and the other big marathon cities close the roads for the races. I could smother the great hatred for running (temporarily at least) for these unusual opportunities.
---
In 2017, I put this to the test.
I was scheduled to be in Singapore at the end of March. A little digging revealed that there was a night marathon the evening I arrived. Even better, there was a 5K associated with it. The 5K route went down by the Marina Bay Sands and along the Gardens by the Bay. At night with all that area lit up it promised to be stunning.
Visually, it was striking. The run itself was a challenge since the running path was shared by several groups of non-runners enjoying the city at night. And it was hot. Despite the technical means to relocate anywhere on the globe, Singapore is located very close to the Equator which promises sultry weather year-round. I was OK with my time – especially considering I was running with several thousand of my closest friends – but the heat was brutal. My running shirt had salt stains on it the next morning.
---
Thus began an ongoing series of running events that took me through the rest of the year. The next weekend I was back in the States and I found a local 5K event to run. The weekend after that, we were in England where a ParkRun event unlocked the achievement of having run three events on three consecutive weekends on three different continents. My beloved and I signed up for 5K events almost every weekend. It became a joke to see how many consecutive weeks we could go (I think it was something like 8 or 9 weeks straight).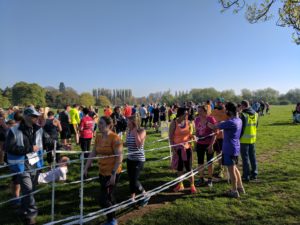 A bit about ParkRun: they organize free (FREE!) weekly, timed 5K events at local parks all over the world. Founded in the UK, it is not surprising that they have a high-density of ParkRun events but they have started to expand into the US – one opened near us later in 2017. If you sign up for one ParkRun, you can participate in any of them anywhere in the world. Your registration code is good anywhere. Running is optional – people walk, stroll with their kids, bring their pets. The goal is to get outside and get some exercise.
The events are every Saturday morning, usually at 9am. Volunteers are there to set up the course, support the runners, and record times. It is no-frills: no water stops, no t-shirts, no banana at the end (unless you bring your own). The idea is that you show up, do your run (or walk or stroll), and continue on with your day – although there is usually a place to meet up with other runners afterwards for a coffee or tea.
As much as I dislike running, I am a huge fan of ParkRuns. It is a great way to get out and get some exercise, meet the locals, and not have it cost an arm and a leg – these 5K events can get pricey really fast. Due to their global nature, they are perfect for travel. The ParkRun by us always asks how far people have traveled to participate. Visitors from the UK are not uncommon. Now that there are events in Singapore (not Japan, yet) I will try to partake on my next visit.
---
Then there was Iceland. On our first trip to Iceland in 2007 we accidentally found ourselves in Reykjavik for the Culture Night festivities: museums are free, concerts and other performances are set up on stages across the city, and the evening ends with a large fireworks show. It was an incredible way to see the city and a lot of fun besides.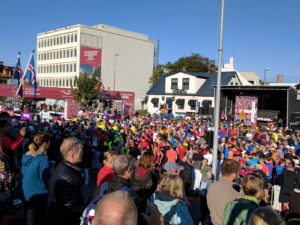 The day begins, however, with the Reykjavik Marathon. We posited a trip to Iceland with friends in 2017 for Culture Night and the marathon half expecting them to politely decline. They accepted. The challenge for us is that the Reykjavik Marathon does not have a 5K category – 10K is the shortest distance. After a little bit of training and some practice we were able to convince ourselves that we would not die during a 10K event, even if we had to walk it. Game on.
My animus towards running is, I suspect, well-understood at this point. As well as my approach to never run when you can walk or – better yet – do nothing at all. That said, I had an amazing time at the Reykjavik Marathon. Given the chance, I would run in this event every year as long as I am physically and financially able.
As we all collectively pick our jaws up from where we dropped them, let me elaborate on this shocking revelation. As a course goes, it is fairly flat. It is exceptionally well-organized (a particular criteria of mine). The weather was fantastic (never a guarantee). But the experience was amazing. The race begins downtown in the heart of the city by the small lake near city hall. The route takes you along both sides of a peninsula with the sea beside you. And, best of all, it routes through a residential neighborhood where the locals are actually excited to see you. They are out there with coolers of wine and beer handing out small little baked goods to runners and making more noise that one would have thought was humanly possible. Their enthusiasm was infectious and buoyed me more than I would have thought possible.
To date, I think of this as the only time I have enjoyed running.
---
There will be more to share about running and the benefits whilst traveling. Suffice to say, I will likely never enjoy the activity of running but the opportunities it presents to see and participate with local communities is amazing. Now, my running shoes and gear are an essential part of my travel kit.
Editor's note: The author of the above anti-running screed has just run his first half-marathon. He is still insistent that running is awful and dumb and no one should ever do it, evidence to the contrary.