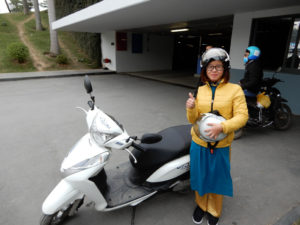 I tried to make the best of a short trip to Hanoi in February, 2018. Unfortunately, my picture-taking ability was poor despite my best efforts.
Not having a lot of spare time, I engaged a couple of guides for efficiency. Fully jet-lagged on my first day in Hanoi, I engaged Paloma Motor Bike tours for a half-day tour of the city. The tour was focused on foods of Hanoi – that part of the tour was not the major draw for me since I am not a foodie – but the tour promised visits to areas of the Old Town I was interested in seeing.
The trip did not disappoint. My intrepid guide, Jane, got me installed on the back of her scooter and we took off to navigate eddies of the Hanoi traffic. While I was nervous for the first few minutes, her skills on two wheels quickly put me at ease.
I had a blast. I don't think I could have had any more fun. Jane showed me places I would have never found on my own, helped me experience foods I did not know I was missing (e.g. egg coffee), and gave me the chance to see the the city at the ground level weaving among the city's residents – not insulated in the interior of a taxi. My stellar review encouraged a couple of my colleagues to schedule a tour with Paloma when they were next in Hanoi and had an equally good experience.
---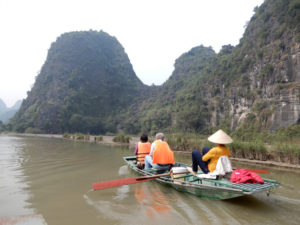 On my last day in Vietnam, I hired a guide to take me to the Tam Côc valley, a picturesque valley outside of Hanoi. The UNESCO World Heritage site (didn't see that coming, did you?) is often referred to as an Inland Halong Bay – a reference to the nearby coastal area known for the dramatic limestone pillars jutting out of the water. The area is apparently more appealing at harvest time when the adjacent rice paddies turn a vibrant yellow (I was there during planting season so a lot of muddy browns and green on the shore).
One experiences the valley from a small row boat – with the oars powered by the strong legs of the pilot. Yes, that is to say he moved the oars using his feet. A journey down the shallow river goes through three small limestone caves before a U-turn and returning the same way. The leisurely ride takes about an hour and a half – bear in mind it takes about two hours to escape the Hanoi traffic and get to the valley.
Considering I had a good amount of time before my flight left, I was able to convince my guide to squeeze in another stop before dropping me at the airport. He took me to a set of temples dedicated to the original kings of Vietnam. The first kings represent liberation from China after 1000 years of occupation. Indeed the spectre of China and France looms over Vietnamese history. My guide shared the perspective that the Chinese and French were imperial powers that took over and sought to run Vietnam. Dislike and distrust of these powers runs deep he says. And about the Americans? "We only fought a war against America. America didn't try to colonize us. It's OK."