Every trip seems to require a visit to some superlative: biggest this, first-ever that. More often there is some caveat attached as in largest something in western Iowa. Today's tourist outing was to the largest shopping mall in the world (as measured by total retail space): the South China Mall. For Americans looking for a comparison, it is twice the size of the Mall of America.
I first came across references to the mall from some clickbait story about abandoned spaces – the idea of a relatively new mall (constructed in 2005) turning rapidly into a ghost town a few years later had great appeal. Abandoned spaces such as old mining towns and Pripyat (which we have yet to get to) fascinate me – to see a once-thriving area deserted with only hints of its previous glory is tantalizing. I am sometimes in Dongguan for business so it went on my list of things to try and do.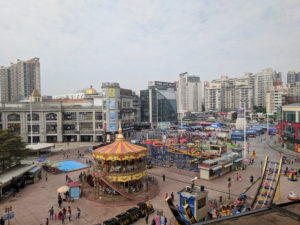 To be fair, there were recent stories that the mall, under new ownership, had begun to return to life. But there were still plenty of vacancies. I wanted to see for myself.
The first thing to note is that it is more of an an open-air mall than the totally enclosed spaces that I have grown accustomed. Much of the retail space at the South China Mall is indoors but there is a large open space between the two main buildings containing a carousel, a 360 / Imax type theatre and other attractions and vendors. Some type of a traditional dance performance was underway today. The indoor space has large entrances to the outside, meaning the weather outside dictated the comfort level inside.
While it is not as desperate in appearance as I might have hoped expected, it was exceptionally quiet for a weekend. Large areas contained potential storefronts are sealed off. Most surprising were the number of other shops that were apparently closed today. The only place that felt particularly busy was the SPAR supermarket. There were plenty of open tables at the restaurants. It was difficult to tell if some of the clothiers were out of business or just not opening today.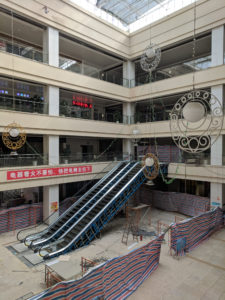 It felt tired and worn. Paint was chipping. Those windows in the skylight that weren't covered by a tarp were stained with grime – likely from the persistent smog in this part of China. Floor tiles lacked lustre and footsteps scratched from a layer of sand. The attached indoor amusement park had more staff than patrons. All the rides that should bleat with electronic noise accompanied by the delighted shrieks of children were silent. All of the rides seemed to be active, but no one was playing. A large open space on the main floor was sloppily retrofitted into a huge ball pit play area for children. That space was well attended, but had the feel of afterthought instead of intent.
What frightened me most was the escalators. To be fair, escalators in China terrify me because of the number of stories about people dying on them. Where possible, I took the stairs but would consent to an escalator if I was not the only one on it – preferably behind someone. Don't judge me.
The failure of the mall is generally attributed to the lack of a customer base. It has the feel of being designed as an upscale venue – there is a replica of the Arc de Triomphe (Paris) and the bell tower of St. Marks (Venice) – but the current lack of high-end retailers underscores its delusion of grandeur. The clientele that they would hope to attract is lacking in Dongguan, predominantly a working class, manufacturing city. The upscale malls in greater Dongguan are modest in size and tend to be integrated into affluent communities.
Instead of being a monument to massive hubris, it is a testament to an eclipsing mall culture. The site radiates disappointment, not sadness. The planned opulence of the decor demonstrates its thin veneer. I wonder how many months (or weeks) it took before the facades became cracked and stained. It is as though a much desired and anticipated gift turns out to be cheaply made and chintzy. It was assumed if it was built, that the people would come. While not an empty shell, what remains is a sorry novelty.
Is it worth a visit? No, don't waste your time. There is enough commercial activity there to dispel the novelty of a deserted, once-thriving venue. It is just a shabby piece of commercial space – and there are plenty of those around. The short documentary on the mall (Utopia Part 3: The World's Largest Shopping Mall) is a better use of your time.
Asia