May 27, 2001: London, England
Unwinding in London. Enjoying some of the simple luxuries like late breakfast, perusing the Sunday paper, and post-breakfast naps. The rapid and relentless approach of the real world makes me sad so we cling to these last vestiges of the trip and time away.
It is kind of nice not being on a schedule – not for today, at least. We found some things we were interested in doing – like a walking tour – but couldn't actually be bothered to be beholden to someone else's clock so we will do it tomorrow.
---
Post-breakfast nap complete, we made our way to Greenwich to see the Royal Observatory, part of Maritime Greenwich which is – wait for it – a UNESCO World Heritage site. I have fond memories of my first visit to Greenwich where my financial status allowed me little more than the opportunity to sit on the hill overlooking the Thames, enjoy the weather and read my copy of Kundera's The Unbearable Lightness of Being.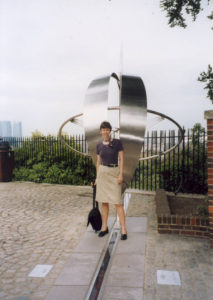 This trip increased my interest in Greenwich. Since Greenwich is on the Prime Meridian (0° longitude), we were able to track our elapsed time against Greenwich Mean Time. We also had the fortuitous opportunity to watch the Longitude mini-series which detailed the contest for being able to accurately calculate longitude while at sea – an ability, once mastered, that enabled Britain to master the seas. We were told that latitude was relatively easy to determine while at sea – not that I could do it. Knowing where along that belt was a different matter. The story goes that if you knew the exact time at a given location, there were a series of calculations that could be done to determine what the proper time was where you were and, by extension, know where you were.
To be able to accurately determine where one was in the ocean would be a powerful tool. Distant colonies could be more readily supplied. Navies would not go so far off course. Understanding this, the British Government offered a prize of £20,000 to the person who could provide such a tool to aid in navigation. The dramatic race was between the astronomers devising a precise star chart for use in calculating Longitude and a Yorkshire watchmaker focused on building a seagoing watch, accurate to within a second a month, which could survive the rigors of ocean voyages.
Like elections and other contests with large prizes and few entry requirements, entrants came out of the woodwork. Asylums were full of longitude calculation aspirants. One method was based upon the idea that people and animals felt sympathy pains when the item that had wounded them was treated in a particular way. Putting this concept into action would have equipped each ship with a dog that had been stabbed by the same knife. At noon in London, the blade would have been handled in such a way as to cause the dog to yelp, wherever in the world they may have been.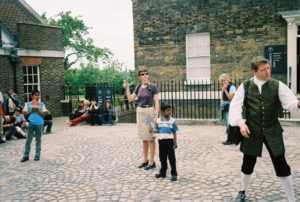 Each hour, a guide prowls the courtyard explaining the history of the site and other interesting factoids. He drew in volunteers from the audience to aid in the storytelling – including the lovely Anna whose literal star turn as a celestial body demonstrated an ability to calculate longitude. The terrestrial locations used by the astronomers to view the heavens have moved over the centuries. Since these locations were central to their calculations, the meridians have moved as accordingly. According to the guide, what is now the official Prime Meridian is about 50 feet east of its original location.
We learned that the Observatory was designed by none other than Christopher Wren and built for £500. Well, budgeted for £500. The building was £20 over budget so the first Royal Astronomer, having no funds, had to construct or borrow all of his equipment. To make matters worse, Mr. Wren did not construct a building that met the basic needs of astronomers; that being, one hears, to map the stars. So our astronomer worked from a shed in the backyard.
There is a ball that drops from the top of the Observatory at 1200 GMT. This drop was used by ships in dock to set their clocks to the correct time. It was a daily mini-version of the New Year's ball dropping in Times Square. Much better than stabbing a dog.
---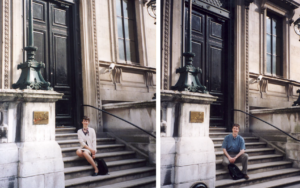 Armed only with our copy of Around the World in 80 Days on our PDAs and whatever maps we could divine, we wandered Pall Mall in a quest to locate the Reform Club, Phileas Fogg's haunt and where his trip came to a dramatic conclusion. Knowing that they did not advertise their presence made the going a little tougher. However, I took the initiative and asked a tour bus driver – after his charges had wandered off to partake of the Princess Diana Walk (whatever that is) – if he knew where it was. He gave us very detailed directions and we set off. After about 50 yards, we were again befuddled. Something about a corner? A black door and a dirty facade?  Three doors down from where exactly? I know there was something about a crosswalk. Is it this crosswalk? About all that we remembered with certainty was that we were on the correct side of the street. Seeing our bewilderment manifest itself in aimless wandering, he came back and properly oriented us.
Remembering that Mr. Palin received a less than warm reception upon his return and attempted entry into the Club, we opted just for photos and left without knocking.  I had read something on the Internet by someone who had asked if he could come in for a look which was not well received.  The Club, according to the article, even got cranky about his taking pictures on their doorstep.  We decided to play it safe. I have a little regret about not knocking at the door, but am not convinced that it would have made any difference.  The doubt nags, though.
---
In the end, Fogg learns that he could have made his trip in 78 days, but only by bypassing India. Had he done so, he would not have met – and rescued – Aouda, his future wife and the ultimate reward of his trip.Jules Verne, Around the World in Eighty Days
Went to the Internet cafe where we had made some of our first overseas postings on this trip. After I had written the note to be posted, I realized it was closing time on the website. We were done. We had accomplished what we had set out to do and achieved what the website had hoped to accomplish. 'Completion' has its own set of emotions. There was little reason for people to visit the site in the future looking for new updates. Our smiling faces greeting the visitor are no longer the promise of a challenge to be met. They have become advertisements for events well past. The site will be as relevant as the effort we expend to maintain it. Barely a few months old, it is already heralding the past.
I have to admit that I am looking forward to not having to pack up every few days, but I am sad that it is over. While there was not a lot of excitement, that made it a fitting tribute to Verne's character. The execution of the proper and precise plans would have suited Fogg. He was entranced by the mathematics of the journey – getting from A to B – and not what he encountered along the way. He did not sightsee, he played whist. Perhaps the time we took to see things along the way would have tired him. But, in the end, he discovered something that he would have never found had he stayed home: Princess Aouda. Perhaps we have found something, but have not had time to discover it yet.
Excerpts from Anna's journal included
This entry was posted in
Around the World