April 12, 2001 (Day 36): Shang Chuan Hotel, Shanghai –  10.45pm
Morale: good. Had a very busy day.
Health: tired. Spent 13 hours out and about.
Began the day with a cultural experience for breakfast. The hard-boiled eggs and watery rice porridge was fine. The baozi – steamed, nearly-sweet filled dumplings with a poppy seed flavor – were all right. The cold roll with the curried meat seasoning would have made a good lunch, but was not what I had desired for breakfast. Then there was an odd mix of dried miscellany on a plate. I suspect it goes without saying that we were the only Westerners in the dining room. Our discreet inspection of our meal was likely entertaining. While not my first choice, I was all right with the meal. Anna said she has found her limitation and it is breakfast meals. She is not up for "cultural experiences" prior to lunch.
Bill, our guide, has more than compensated for my opinion deficit of him yesterday. He has shown himself to be very informative and personable. Indeed, he admitted that perhaps three jade museums in a single trip to China were unnecessary. I think he realized that we were unlikely to be worn down to the point of purchase. The staff at the pearl "museum" we visited were not pleased when I admitted to having seen a freshwater pearl demonstration already. My comments at least gave the sacrificial oyster a brief extension of its life.
---
The important thing for today was to get our ferry tickets to Japan. Bill was very helpful in tracking down the ticketing office, which was secreted in a room in the Shanghai Mansions hotel. It was very encouraging to see them pull up the email that I sent earlier. It confirmed that I was in the right place. There was one minor drawback and that was that I did not have the cash on hand to pay for the fare since I was unable to find an open bank yesterday. So Bill and I set off to the cash machine. I have a tendency to adopt the opposite behaviors of those around me. The hike to the ATM was throwing a wrench into Bill's timetable and he was a little tense. I figured it would all work out anyway so, compared to him, I was as controlled as a Zen master. Everything worked out and, before long, we were off to sight-see.
Docked close to where I suspect we will catch our ferry was the Regal Princess, the ship we will join in just over a week's time. Our itinerary overlapped with some of the ship's excursions so we were permitted a preview of what our fellow passengers might be like. I have seen the future and it frightens me. I suspected that the passengers would consist of couples between our age and the age of Anna's parents. Based on the first group we saw, Anna's parents would certainly be younger than average. I would not describe the passengers as "retirement age" as much as "elderly."  Some were having quite a bit of trouble getting around in wheelchairs. I suspect we will be among the youngest passengers on the ship.
---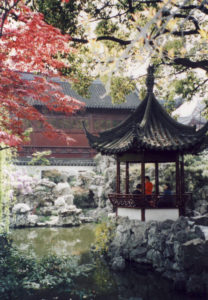 The Yuyuan Gardens were the highlight of the day. Despite the constant stream of tourists, it was quiet and relaxing. Hard to believe that they are in the center of the city. The gardens were the private property of a local merchant. Inside these confines, the garden was subdivided into various sections so the entire garden was not visible from one vantage point. Scattered throughout were fountains, pavilions, and fishponds. The trees were blossoming with the colors of spring. Elegant dragons graced the spine of the walls. Windows were cut in passageways to look like picture frames, the items in view from this portal were arranged to resemble a Chinese painting complete with bamboo trees and rocky hills.
The grounds were decorated with the type of pockmarked and porous stones that we had seen in abundance at the Forbidden City. Our guide mentioned that all of these Swiss Cheese stones come from his hometown, Suzhou. He brought us to one stone and recounted the legend associated with it. As the story goes, if you are able to reach into two of the holes and touch your hands together, you will find a nice Chinese girlfriend. While always interested in trying my hand at local legends, I passed on this one suspecting that it would be difficult to carry my bags after Anna broke my arms.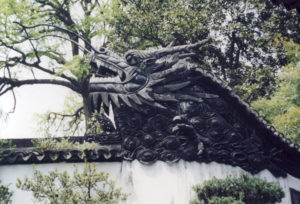 Outside of the gardens is a tea house built upon stilts in the center of a small pond. The bridges leading to this building are zigzagged, on the belief that evil spirits cannot cross water and can only travel in straight lines. Tourists have managed to adapt to such obstacles and were packed in. In a nearby courtyard was a mode of transport whereby the wealthy would ride upon the shoulders of their human couriers. I asked Bill if he would carry me around in that. He smiled and politely said no. OK, well how about if he gave me a piggyback ride?  Still he declined.
Bill then treated us to the best tour lunch we have had yet:  Mongolian. With Mongolian, you really only have yourself to blame if you do not like your meal. We had a nice chat with the Indian family that shared our table. I am still not used to the reaction we get when we explain our trip. "Who planned this?"  "How much did it cost?"
---
On this trip we have visited silk carpet factories, jade factories, and pearl factories. After lunch, we were taken to the Children's Palace, an arts factory. If the stories we were told were true, this was a place where congregate to hone their abilities in music, dance, calligraphy and other arts. While I have no problem with supporting schools of this sort, if this were truly a school we had no right as visitors to be there. There was the uncomfortable feeling of a human zoo where the prodigies were joylessly trotted out to demonstrate their abilities to the expectant public. Clouds of camera-toting tourists wandered disruptively into rehearsal rooms to observe practice. Closed doors were no deterrent. Surely there must be a better forum to display this talent without the disorder caused by unruly tour groups chatting loudly amongst themselves – often to raise their voices above the music being created – with their flash cameras and camcorders in constant activity. These kids will have no such thing as stage fright after formative experiences like this.
---
According to the news today, the US service personnel detained in China are free to go. I asked Bill what he thought about the whole situation. He said they used to think that America was a great place of opportunity. Now, after the US bombing of the Chinese embassy in Belgrade and the downing of the Chinese plane and the emergency landing of the US spy plane, he feels angry towards the United States government. He feels that the US is trying to keep China down. But he likes Americans. His displeasure at the United States government does not translate to anger towards American citizens. Not all Americans are the same.
He knows what he is told about the outside world. Just like the rest of the world.
---
Tonight's adventure was the acrobat show at the Shanghai Center, an entertainment complex adjacent to the Ritz Carlton. The show got off to a slow start. Some of the blame rests on the audience, large parts of which were late. When the lights dimmed, the section we were in was largely empty. However in the next 10-15 minutes it filled up almost completely. We missed sections of the show because people were moving around in front of us and ushers were trying to help get everyone situated. The guy sitting next to Anna showed up very late smelling of alcohol and stale cigarettes then promptly fell asleep. I think the man in front of him was sleeping too.
The main act was very good. I tend not to applaud for juggling acts or anything I have seen my friends do, but I had a lot to applaud for here. I was actually encouraged to see a few minor mistakes being made. It reinforced the skill of the performer when the stunt went well and assured me that what I was seeing was real. My favorite part was when they were jumping around off of springboards – probably because I always thought that would cool to do but my mother would never let me try it in the house. To be fair, the man tossing around this large vase was impressive for the pure physicality of the stunt.
What is it like to be married to one of these performers?  Do you wake up in the middle of the night and come down to the kitchen to find your wife juggling dishes?  If you come home early from work, do you find your husband in the living room atop a hastily assembled pyramid of furniture balancing flowerpots on his head?  After a long day at the office, do you lie in bed with your wife who unwinds by spinning small rugs with her feet?
---
Despite Bill's plea that we take a cab back to our hotel, we grabbed a coffee from the nearby Starbucks (by the Hard Rock Café) and wandered the posh Nanjing Lu to the metro station. This street outdid the degree of opulence I had seen in Pudong with its designer boutiques housed in brightly-lit glass buildings. Stunning if only for the contrast to the neighboring buildings.
No luck finding an internet café. Our ability to obtain internet access in a given city is inversely proportional to the ease of obtaining access promised in a guidebook. The designation of "Most Wired City" is a death knell. Perhaps tomorrow.
Excerpts from Anna's journal included
This entry was posted in
Around the World